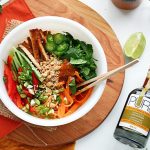 Print Recipe
Chipotle Lemongrass Tofu Noodle Salad Bowl
Ingredients
Spicy Maple Peanut Sauce
2

tbsp

soy sauce

3

tbsp

natural peanut butter

2

tbsp

sriracha

2

tbsp

Pure Infused Chipotle Lemongrass Maple Syrup

1

tbsp

sesame seeds

3

tbsp

water
Spicy Chipotle Lemongrass Tofu
1

block

extra-firm tofu, sliced into ¼" slices

3

tbsp

Pure Infused Chipotle Lemongrass Maple Syrup

2

tbsp

light soy sauce

1

tbsp

sriracha

1/2

tbsp

olive oil
Noodle Bowl
100

g

dry rice vermicelli noodles (about 2 cups cooked)

1

recipe

Spicy Chipotle Lemongrass Tofu

1

recipe

Spicy Maple Peanut Sauce

2/3

cucumber, julienned

2

small carrots, thinly sliced using a vegetable peeler

1/2

red bell pepper, julienned

1

bunch

green onion, finely sliced

2

big handfuls baby spinach, finely chopped

1/4

cup

dry roasted, salted peanuts, finely chopped

2

tbsp

sesame seeds
Instructions
Spicy Maple Peanut Sauce
Combine all ingredients (except sesame seeds) in a blender or food processor. Blend until smooth and creamy. Stir in sesame seeds.
Spicy Chipotle Lemongrass Tofu
Preheat oven to 425F. Combine the Pure Infused Maple Syrup, soy sauce, sriracha and olive oil. Marinate sliced tofu for 30 minutes. Bake on parchment paper for 10 minutes. Flip, baste with remaining marinade, and bake for another 10-15 minutes. Do not overcook. Chill completely (fridge or freezer is fine) before cutting into thin strips.
Noodles
Boil rice noodles for 6-8 minutes, or until just tender. Rinse under VERY cold water – noodles should be well chilled. Immediately add a liberal amount of peanut sauce to stop the noodles from sticking together.
Serving
For best presentation, divide sauced noodles into 4 bowls. Top each bowl with tofu strips and thin-sliced vegetables (cucumber, carrots, red bell pepper, and spinach.) Drizzle with extra peanut sauce and sprinkle with finely chopped roasted peanuts, sesame seeds, and green onion. (Alternatively, mix everything together in one bowl and serve pre-mixed.)