This hearty loaf is loaded with good-for-you ingredients and smothered in a tangy Maple Gastrique glaze. It's the perfect holiday entertaining side to satisfy any crowd. It comes from our Pure brand Ambassador, Brittany Mueller. You can find more of her recipes at http://www.ilovevegan.com and http://garden-of-vegan.tumblr.com.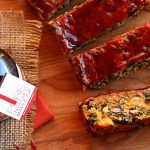 Print Recipe
Sweet Potato, Kale, Black Bean Loaf with Tangy BBQ Maple Gastrique Glaze
Ingredients
Loaf
2

cups

green lentils, slightly overcooked

2

cups

mashed sweet potato

1

tbsp

olive oil

2

cups

kale, finely chopped and tightly packed

2

cups

 mushrooms, finely chopped

1

cup

black beans, slightly mashed

3

cloves

garlic, mashed

1/2

cup

oat flour

3/4

tsp

salt

1/4

tsp

oregano
Glaze
1/3 cup + 1 tbsp PURE Infused Maple Gastrique

1/3 cup + 1 tbsp tomato ketchup

1/8

cup

barbeque sauce

pinch salt
Instructions
Lentils
Rinse lentils under cold water. Bring ¾ cup of dry green lentils and 2 ½ cups of unsalted water to a boil. Reduce the heat to medium, cover tightly, and simmer until lentils are slightly overcooked and very tender (approx. 30 minutes for whole lentils.) Overcooking the lentils helps bind the loaf together. Measure out 2 cups of the cooked lentils.
Sweet Potato
Wash 1 large sweet potato, cut out any obvious blemishes and prick 8-12 holes in the skin. Microwave on HIGH, flipping once, until tender (approx. 3-6 minutes depending on the size of the potato.) Set aside to cool. Once cool enough to handle, remove the skin and roughly chop the potato, the texture should be a combination of chunky and mashed. Measure out 2 cups of the cooked sweet potato.
Vegetables
In a large skillet, heat olive oil over medium-high heat, add the finely chopped kale, mushrooms, and garlic. Sprinkle with salt, and sauté until tender.
Glaze
In a small bowl, whisk together the PURE Infused Maple Gastrique, tomato ketchup, BBQ sauce, and salt. Set aside.
The Loaf
In a large bowl, combine 2 cups of drained, overcooked lentils, 2 cups of chopped/mashed sweet potato, the sautéed vegetables, 1 cup slightly fork-mashed black beans, ½ cup oat flour, thyme, and salt. Stir well, the mixture should be very thick (if it seems dry, add vegetable stock, 1 tbsp at a time, until the mixture is just moist. If the mixture is too soft, add more oat flour. Taste and adjust the salt if necessary.

Line 2 loaf pans with parchment paper and divide the loaf mixture evenly between them. Firmly press the mixture into the loaf pans. Ladle the Tangy BBQ Maple Gastrique Glaze liberally over each loaf. Bake for 35-45 minutes or until the bottom and sides of the loaf are golden-brown and the glaze has thickened. After baking, let rest for 15-20 minutes before cutting the loaves into slices and serving.