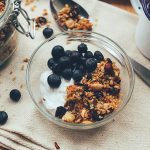 Print Recipe
Maple Granola
Ingredients
3

cups

rolled oats (750 ml)

1

cup

walnuts or pecans(250 ml)

1/2

cup

shredded coconut (125 ml)

1/2

cup

slivered almonds (125 ml)

1/4

cup

sesame seeds (60 ml)

1/4

cup

vegetable oil (60 ml)

1/4

cup

maple syrup (60 ml)

1/4

cup

honey (60 ml)

1

cup

raisins (250 ml)

2

tbsp

whole flax seeds (30 ml) (optional)

1

cup

rice krispies (250 ml) (optional)
Instructions
Preheat oven to 325°F (160°C).

Mix oats, walnuts/pecans, coconut, almonds, sesame seeds and flax seeds together.

Heat the oil, maple syrup and honey in a small saucepan until warm, then pour over the nut/oat mixture and toss to coat.

Spread the granola evenly over a large rimmed baking sheet.

Bake, stirring every 5 minutes, until the granola is light golden brown, about 15 minutes.

Remove from oven and stir in the raisins.

Let granola cool to room temperature. Loosen the cooled granola with a spatula and store in an airtight container for up to 7 days.

To make chunky granola, press warm granola into pan before it cools. Once cool, break into pieces as you remove it from the pan. Make about 7 cups (1750 ml).