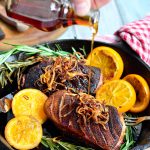 Print Recipe
Pan Seared Duck with Orange and Rosemary, Served with Crispy Shallots and Maple Gastrique
Ingredients
4

Duck breast

1

Orange – thickly sliced

4

springs rosemary

6

thinly sliced shallots

3/4

cup

PURE Infused Maple Gastrique

Salt and Pepper
Instructions
Pat dry duck breasts with paper towel to take extra moisture out of its surface. This allows the cooked meat to form a crispy surface.

Run a sharp knife across the skin side in a crisscross manner or simply make diagonal strikes. Make sure not to cut through the meat, and only the skin.

Lightly sprinkle with salt and pepper.

Heat your cast iron pan or a heavy bottomed searing pan on medium-high.

When pan is hot, lay the meat with skin side down. Cook for 3-4 minutes, until the skin is golden and crispy.

When ready to turn the meat, take pan out of stove and pour the excess duck fat into a bowl, leaving only very little for the rest of the meat to cook in.

Add sliced orange and rosemary to the pan and sear the other side of the duck for another 3 minutes. The rosemary and orange slices will need to be moved around the pan a little and flipped. At this time take the rosemary out of the pan before it burns and orange slices can be reserved. Continue to sear the meat until it is done (another 2 mins).

Fry the thinly sliced shallots in the reserved duck fat until it takes on a light golden colour. Take pan off stove and drain the shallots over a paper towel.

Reduce the Maple Gastrique in a pan over high heat for 2 mins. Take off heat and let cool.

When ready to serve – place crispy fried shallots over the seared duck and drizzle the reduced gastrique, garnish with the fried oranges and fresh rosemary.