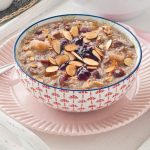 Print Recipe
Pure Cinnamon Toasted Oats
Ingredients
2 1/2

cups

water

1/4

cup

quinoa – well rinsed

1/4

cup

large flake oats – toasted*

1/4

cup

dried fruit – apples and cranberries

1/4

cup

slivered almonds

1

tbsp

ground flax seeds

1/4

tsp

ground cinnamon

2

tbsp

PURE Cinnamon Nutmeg & Clove Maple Infusion
Instructions
*Toasted Oats – Preheat the oven to 350F.

Spread the oats in a thin layer on a cookie sheet and bake for about 10-12 minutes, until lightly browned and fragrant.

Stir them around a couple of times during the cooking process to ensure even browning.

Combine all of the ingredients except for the PURE Maple Infusion in a medium sized pot, and slowly bring to a boil over medium-high heat.

Once the mixture starts to boil, remove the pot from the heat, cover, and let sit overnight at room temperature.

In the morning warm the porridge over medium heat, stirring occasionally, for 5-10 minutes until heated through.

Remove from heat, and add the PURE Maple Infusion and stir to combine.

Sprinkle each bowl with a few more nuts, and add some fresh fruit or a spoonful of jam and serve.
Notes
These proportions will make enough for two servings, but can easily be doubled or tripled for more.