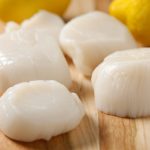 Print Recipe
Spicy Maple Glazed Digby Scallops with Risotto
Ingredients
For the risotto
1

small onion, minced

2

cloves garlic, minced

1

inch piece of fresh ginger, grated

1

fresh red chilli, minced

2

tbsp

extra virgin olive oil

1/4

cup

butter

1/2

tsp

salt

1/4

tsp

fresh black pepper

2

cups

butternut squash, finely diced

1 1/2

cups

superfino arborio or carnaroli rice

1/2

cup

dry white wine

6 to 7

cups

hot chicken broth

1

cup

grated parmesan cheese

1/4

cup

finely chopped cilantro
For the scallops
1 1/2

pounds

Digby scallops

1/4

cup

vegetable oil

1/2

cup

PURE infused maple syrup with chipotle and lemongrass

1/2

cup

toasted cashews (garnish)

fresh cilantro leaves (garnish)
Instructions
Risotto
Bring the chicken broth to a simmer in a separate pot on the back of the stove. Choose a thick-bottomed stainless steel pot for the risotto, preferably something a bit wide and shallower than a stockpot.

Sauté the onions, garlic, ginger, red chilli, salt, and pepper, in the olive oil and butter until the onions are translucent. Add the squash pieces and stir well, cooking for about 2 minutes. Add the rice and stir well, cooking for about 2 additional minutes until the rice is well coated in the oil and butter. Deglaze with the wine and cook until it has completely evaporated.

Add the hot chicken broth to the rice a ladle at a time, stirring well and cooking it out gradually over medium heat. Keep adding the broth until the rice is el dente (still has some resistance when bitten) and then stir in the parmesan cheese and cilantro. The rice should take about 15 to 18 minutes to cook once you begin adding the liquid.

Remove from the heat and cover the pot for 5 minutes, then serve immediately.
Scallops
Ensure the scallops are as dry as possible before starting the dish so they caramelize well in the pan.

Heat a large frying pan over very high heat and add the oil. Add each scallop one at a time placing the best side (the presentation side that will show when serving) into the oil. Sear for about 2 minutes until golden brown and then remove them from the pan, resting them on a cold plate. When all the scallops are done, discard the oil in the pan.

Place the pan back on the heat and add the scallops back, this time placing the uncooked side down first. Immediately add in the PURE infused maple syrup and bring to a boil over high heat. Cook for only about 2 minutes, basting the scallops slightly as they cook.
To serve the dish
Place a ladle of risotto in a pasta bowl or on a dinner plate. Add several seared scallops on top of the rice, then drizzle some of the warm infused maple syrup in the pan over the top. Garnish the dish with a few toasted cashews and a couple of sprigs of fresh cilantro.
Notes
Serves 4 as a main course or 8 as an appetizer.