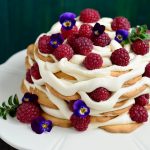 Print Recipe
5 Ingredient Summer Ice Box Cake
Ingredients
275

g

Mascarpone Cheese

1

cup

Whipping Cream

1/4 + 2 tbsp PURE Infused Chai & Lavender Maple Syrup

Almond thins

8

oz

Raspberries
Instructions
Whip mascarpone with PURE Infused Chai & Lavender Maple Syrup using an electric mixer. Add whipping cream to the mix and whip until nice and fluffy with very soft peaks but not too stiff. Fill the mixture into a piping bag.

Arrange the biscuits in a circular pattern, pipe the filling over the biscuits covering the surface, scatter a few raspberries, continue with the leftover biscuits, filling and raspberries in alternate layers, finishing with filling and raspberries on top.

Let sit for 4 hours or for best result over night in the fridge, well covered.

Serve cold with a few sprinkles of fresh violas.