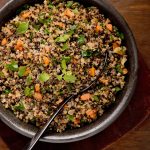 Print Recipe
Chipotle Lemongrass Quinoa Pilaf
Ingredients
2

tbsp

vegetable oil

1

small onion, finely minced (about 1/2 cup)

1

carrot, finely minced (about 1/4 cup)

1

rib celery, finely minced (about 1/4 cup)

1

clove

garlic, finely minced

1 1/2

cups

vegetable stock

1

cup

quinoa – any combination of black, white, or red quinoa

3

tbsp

finely chopped fresh herbs (use any combination of parsley, chives, mint, or lemon balm)

2

tbsp

A good drizzle (about 2 tablespoons) PURE Chipotle Lemongrass Maple Infusion
Instructions
Heat the oil in the bottom of a medium saucepan over medium-high heat.

Add the onions, carrot, celery, and garlic and cook for about five minutes, stirring constantly, until the onion is lightly browned and vegetables have softened.

Stir in the quinoa and add the vegetable stock, increase the heat to high and bring to a boil.

Once the mixture comes to a boil, reduce the heat to low and cover.

Cook the quinoa for 20-25 minutes until all the liquid has been absorbed.

Just before serving, add the chopped herbs and PURE Maple Infusion to the pot and stir to
combine.