This easy vegan patty makes the perfect summer burger paired with a chewy ciabatta bun, crisp fresh veggies, chunky guacamole, and a spicy chipotle-sriracha mayo. The maple syrup glaze is the perfect balance of spicy and sweet with a hint of smokiness.
This recipe comes to us from Brittany Mueller, one of our two PURE Brand Ambassador chosen from a nationwide contest with Food Bloggers of Canada. You can learn more about Brittany, and find more delicious vegan recipes, at I Love Vegan: www.ilovevegan.com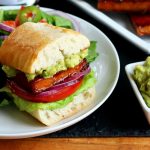 Print Recipe
Chipotle Maple Glazed Tofu Burgers
Ingredients
Chipotle Maple Glazed Tofu Burgers
1

block extra-firm tofu

1/4

cup

Pure Infused Chipotle Lemongrass Maple Syrup

1

tbsp

light soy sauce

1

tbsp

sriracha

1/2

tbsp

olive oi

1

large clove garlic, minced
Chipotle-Sriracha Mayo
1/3

cup

vegan mayo

1

tsp

sriracha

1/4

tsp

chipotle powder

1/8

tsp

garlic powder
Guacamole
1

large avocado

1/2

small tomato, chopped with seeds removed

1

tbsp

red onion, finely chopped

1

tbsp

fresh cilantro, finely chopped (optional)

1

tsp

lime juice

pinch salt
Toppings
1

ciabatta baguette, cut just large enough to fit one glazed tofu patty per bun

leaves of butter lettuce or spinach

tomato, thin sliced

red onion, thin sliced

1 recipe chipotle-sriracha mayo

1 recipe guacamole
Instructions
Chipotle Maple Glazed Tofu Burgers
Cut block of tofu in half (so you have 2 square blocks) and then slice each block lengthwise into thirds to make square patties.

If baking, preheat the oven to 450F. Combine the rest of the marinade ingredients in a shallow dish and marinate the tofu patties for 35 minutes, flipping halfway through.

Scrape off the extra marinade before cooking and reserve the excess.

Heat a small saucepan over medium-low and add the leftover marinade. Bring to a simmer and cook until just thick. Remove from heat.

Baking: Place patties on a baking sheet lined with parchment paper. Bake for 10 minutes, flip and bake for another 10 minutes. Top with 1/2 of the thickened glaze and bake for 4 minutes, flip and top with the remaining glaze and bake for another 4 minutes. Warm buns in the oven during the last 2-4 minutes of cooking time.

Pan-frying: Heat 1/2-1 tbsp oil over medium-high heat in a large skillet. Place patties in hot oil and cook until browned around the edges, about 5 minutes, flip and brown the other side. Top with 1/2 of the thickened glaze and flip, cooking until the glaze bubbles and thickens. Top with the remaining glaze, flip and cook until both sides are coated with glaze.
Toppings
Chipotle-Sriracha Mayo: Combine all ingredients and let sit while tofu marinates.

Guacamole: Mash 1/2 of the avocado, and chop the other half. Combine the mashed avocado, chopped avocado, tomato, red onion, cilantro, lime juice, and salt.

Vegetables: Prepare all vegetables while the tofu marinates and bakes.